Well-known member
NSC Licker Extraordinaire
I think a GQT thread might prove quite popular.
Those of you who are professional and keen amateur gardeners (even lawn movers like Lamie can join in!) might like to help those of us who'd rather go to work than step outside the back door.
That said, the first question is rather counter intuitive and probably isn't a great place to start.
My garden is blighted by this monstrosity and I want it gone:-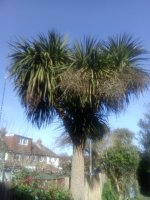 It's about 20-30 ft tall, the circumference at the base is 4ft.
The worst thing about it is the one in the garden behind that's about twice the size!
I'm confident I can send the boy up a ladder to saw the branches off.
But how should I tackle the remaining 10ft high trunk, with rudimentary tools, ie - no chainsaw.
I'm assuming digging it out isn't an option.