The Manifestation of Moribund
A phrase often used at the moment is 'powerhouse' in reference to a 'major' team in the Euros.
So...
I've done a table based on the last ten major competitions since 2000. Namely the Euros and the World Cup.
As in knockout games there are 'fine lines' between success and failure, points have been awarded per performance as follows:
6-Winner
5-Finalists
4-Semis
3-Quarters
2-Second Round
1-Qualified
The final table reads as follows: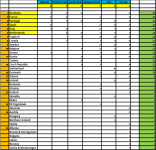 On the basis that a minimum requirement to be a 'powerhouse' is at least one final appearance in that time, we see a 'big 6' (all of whom have more than one).
England's status, as many folk feel, is confirmed as 'the best of the rest'.
Ominously, if Germany get out of the group stages they always reach the last four.
Last edited: