Accepting the result is now done and it was a day of shocking officiating. Jut how did United's first goal stand? and why wasn't VAR consulted?
It was both offside by 2 or 3 Man U players and a clear foul on Dunk, both of which should have been evident with a missing VAR review.
Taken from the sky highlights, freeze frame at the second Fernandes strikes the ball (first pic you can see clearly by cut of darker rolled green grass pattern that runs exactly perpendicular to the 6 yard box) that Both Connolly and Trossard, nearest ball are slightly upfield of the 6 yard line as ball is struck, as is March towards back end of 6 yard box. So neither of those 3 are playing anyone onside who is stepping over the 6 yard line as the ball is struck.
Looking at the exact same freeze frame from a different angle at second Fernandes hits the ball, The player most nearest goal and effectively the last Albion man is Lallana with one foot bang on line, Both Rashford and Maguire 2 handed holding Dunk are both clearly offside with feet in offiside positions. Maguire more so.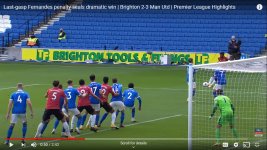 Watch the Sky highlights and the replay of their first goal.
https://www.youtube.com/watch?v=X3tWXvGWtqk
Stop video at exactly 0:50, then just watch Maguire with both arms around Dunk and nothing else as the ball is played across, he's literally moving him around, holding with both arms throughout the whole move, and then throws him over before just ball hits hits Dunks toe.
All resolved easily with VAR (as was the case after final whistle) So why wasnt it?
I get it changes nothing with the result, but these VAR use inconsistencies are valid questions.
1) An offside goal with a foul given with no VAR used
2) A 4th official breaching rules and telling ref what he thinks whilst only showing one angle.