You can change this
All-powerful Moderator
Albion fan Simon Medhurst is releasing a new book chronicling the rise of the Albion, with a significant amount of each book sale being donated to Macmillan Cancer Support.
Full details below. Please contact Simon directly if you wish to purchase one of the limited print run >>> email -
simon-jane@tiscali.co.uk
or
on twitter
.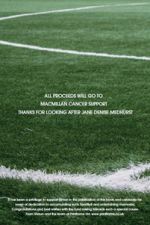 Book Release Details: From The Gutter To The Stars By Simon Medhurst
An Overview
The book is a detailed memoir documenting the rise of Brighton & Hove Albion Football Club from the turn of the Millennium to the end of May 2019. It isn't about football per se it's about following a particular football club, written by a fan for the fans. It concentrates on the passion, the heartache, the frustrations, the joy and lots of fun stories.
I'm sure these tales and anecdotes are similar to those of other football fans around the country but the Brighton and Hove Albion story is pretty unique. For we have come out of the doldrums and rocketed into the sky within a relatively short space of time.
Following Dick Knight saving the club from possible extinction and the clutches of non- league football we have now become a global brand under the leadership of Tony Bloom. We are now homed in a state of the art stadium in Falmer and have an outstanding academy headquarters a few miles west along the A27. The dynamics of the club have completely changed and hopefully as a fan I have captured this story along the way.
The Stories
It is jammed pack with fun stories and boy are there some varied & unconventional subject matter covered. To give you a flavour these include:-
• Numerous promotion & relegation campaigns
• 9/11
• The clubs centenary
• Numerous battles with Crystal Palace
• Poogate
• The Falmer For All Campaign
• Winning the Coca Cola Kid
• The building of the Amex
• Trips to Millennium & Wembley Stadium
• The magic of Withdean
• Notorious away days at Pompey, Bolton, Preston, Rotherham Aston Villa & Burnley
• My pursuit of 92 league grounds
• Shoreham air disaster
• Being served by paedophiles in Exeter
• Wife kissed by DJ
• A brief encounter with Mini-Me
• An argument with a political commentator
• A famous actor being run over
• Getting to the Premier League
• An insight into the key individuals including Mr Bloom, Barber, Poyet, Garcia, Hughton, Murray, Fatboy Slim & others
I also express my concerns about the demise of the modern day Premier League footballer, touch on my playing days in the West Sussex Football League, give a shout out to my brilliant team mates at Rudgwick FC and our little claim to fame.
Talking of fame there is a chapter on Kirdford the village I grew up in, its celebrity culture, a story that will make you laugh and another that will make your blood curdle plus a Grand National winner that provided the village with its own international fame.
Finally it gives a little insight into my personal life as it documents how we as a family have dealt with our ups, downs and illness during the period of Albion's uprising. Sadly my Mum, my wife Jane and sister Sasha have had to battle against Cancer and I talk openly about these three very brave and special ladies. It also touches on my redundancy in 2016, mental health, me re-aligning my priorities, how I have handled the family cancer battles with a bit of self-help thrown in for good measure. A football fans guide to help get through life.
Parental Guidance: A word of warning this book does contain the occasional swear word.
Cost – A Charitable Donation
Cost (TBC between £10-12-50. We want the including P&P to be no greater than £15). All proceeds (sales income less printing costs) will be going to MacMillan a brilliant charity who looked after Jane so well in her hours of desperate need. So you can indulge knowing you are making a difference.
Simon James Medhurst
Born 24th June 1965. Despite being born in Surrey I have lived in Sussex all my life. West Ham United was my first love but I dumped them and started supporting Brighton in the early/mid-seventies. I have spent my entire life working in insurance, I love watching live sport and going to gigs. Other than sport cooking is my passion and I firmly believe that comedy & laughter is the best tonic in life. Married to Jane we have two beautiful grown up daughters Elissa-Jane and Robyn.