Mission accomplished! So to Arsenal away...
After watching Cardiff flounder at home to Palace (guess beating them lot isn't for everyone…) we could go to the Emirates far more relaxed than I was anticipating. Still, lots to play for - we still have the ability to wreck a few of the big 6's seasons - would be lovely if we could be as difficult as possible, deny Arsenal a Champions League place, then ruin City's near perfect title charge at the last hurdle. Just because.
Mercifully, we can finally celebrate our survival - though we could have feasibly secured our PL status all of 3 months ago. Lots to work on for next year, but pre-season starts now, away at Arsenal. Alireza: show us today why we brought you in, show us what you can bring next year, having had a full season to adapt and without an Asia Cup interruption. Bissouma: deliver on the obvious, glorious potential you possess, start your transition from exciting wildcard to midfield mainstay NOW. No doubt there will be transfer movement this coming summer, but I am equally convinced there is much more to come from our recent signings. Both feature in the starting line up, 4-4-1-1: Murray up top, Pascal in behind. No surprise, given the awful experiment in the 1st half against Newcastle. Bruno and Bernardo at the full-back positions, lovely stuff. Come on lads.
Arsenal line up strong, as expected. Both Aubameyang and Lacazette on from the start, a big test for our backline. The Gooners' captaincy is bestowed to the inconsistent, but unquestionably talented Mesut Özil - not the first time, but an odd selection nonetheless. Doesn't strike me as an obvious candidate.
Anthony Taylor gets the game underway, and nearly immediate disaster, as Mkhitaryan fires a low strike through a sea of green bodies...past the clawing reach of Maty Ryan, just kissing the inside of the post, but bouncing out and away to safety. Not the best start. Come on Albion!
A first Albion attack of the game sees March find space in the box, after a clever pass from Bernardo. Solly turns, looks up, and fires it across, but no one close enough to impact it. Without question, more bodies in the box needed if we want to get on the scoresheet today. Promising signs, however.
Following my earlier plea, Alireza does indeed make an early impact. The ball falls loose in the Albion box: the winger stretches out a leg and gives Mr Taylor a decision to make. Monreal goes down in a heap, a brief hesitation from Anthony Taylor then...Penalty. Sake Ali. Maybe a harsh one, certainly wasn't clear cut. On second viewing, there doesn't appear to be any significant contact. Not like Arsenal to go down easily? Ryan dances on the line, to no effect - Aubameyang sweeps it home. 1-0, and seemingly a mountain to climb if want anything from this game.
Play restarted, and Sokratis skips forward, and throws himself over a non-existent Albion leg. Mr Taylor immediately gestures in favour of the Seagulls, and a yellow card for the ex-Borussia Dortmund man. Spot on, awful, blatant dive. From a defender too - the game really is changing. Can't imagine Andy Whing or Guy Butters throwing themselves to the ground without the slightest contact.
Nice feet from Bissouma on the edge of the Arsenal box, before the Malian is blocked off by Mkhitaryan. Free kick, in a very inviting position. Albion fans watch on, hoping our German creator can summon the spirit of Ryan Harley and bend the ball into the top corner. Groß steps up - a respectable effort, but the wall jumps to block. Arm? Shoulder? Hard to tell, but Duffy still appeals vociferously, our referee unmoved. Perhaps a yard higher, and it may have caused Leno real problems. Better, Albion.
Huge chance. Chances. Loads of chances. What on Earth is happening!? Under seemingly no pressure whatsoever, Leno passes the ball straight to our Iranian Prince, who opts not to shoot, but cuts onto his left and feeds the ball to Murray. Glenn turns, and fires the ball at goal...blocked by Mustafi, to even more insistent appeals for handball. Meanwhile, Pascal retrieves the loose ball and treats the Emirates tourists to a legendary Groß Cruyff-turn. He lifts the ball up, just too high, but the ball finds Bissouma with some more tricky footwork. Yves endeavours to wriggle through, before laying the ball back to March. A delicious cross evades the every Arsenal defender - but Murray's header is straight at Leno. Decent move, and a decent effort to go along with it, Glenn just unable to generate the necessary power.
Albion are starting to build some real momentum now. A Groß corner swung deep...all the way...almost finding its way in! Leno is convinced of an infringement - nothing doing - but we are really growing in this game. It's no myth that Arsenal are shaky at the back - they really are that bad - poor kicking from the goalkeeper, a distinct lack of communication, the notoriously low scoring Seagulls are having a lot of joy going forward. HAVE to take our chances though lads.
Now Arsenal's turn to test Ryan from a set-piece. Smart save from Ryan low to his left, as Mustafi ghosts away from Murray, and directs a corner goalward at the near post. Our Socceroo thumps the post in frustration at the lacklustre marking, reminding his team to up their concentration.
Stephens responds with a lovely, aggressive tackle. Arsenal threaten to break, but Dale dumps Özil to the ground - admirably strong, defensive play. Özil is clearly unhappy: incredulous at Mr Taylor's refusal to blow the whistle, his eyes wide in disbelief (at that moment taking up an impressive 91% of his face).
Home side on the attack once again, the ball is delivered in from the left. Dunk lunges, but Aubameyang gets there first, sweeping it towards goal. Simple football, surely 2-0. No - fantastic save from Ryan, getting a strong right hand to scoop the ball away.
Not long after, a third excellent save of the half by Ryan, Mkhitaryan fizzing a shot from distance, beaten away by the Australian international. Not cleared, Lacazette then fires the ball at goal, smartly headed away by Lewis Dunk. Impressive defensive play, but we're hanging on a little as the half draws to a close. Out of nowhere, it's nearly an awful mistake as the last action: Duffy stretches to play the ball back to Ryan, completely unaware of a lurking Arsenal attacker. The ball evades Mkhitaryan, JUST. That would have been an irritatingly stupid error to completely kill the game, after all our promising work.
HT. Overall, a pleasing first period. Scoreline somewhat harsh, a very debatable penalty the only thing separating the two sides. You do have to suspect, that Albion won't get too many more chances however - Arsenal have been hapless at the back at times.
Ready to go again for a second 45 - and a rather surprising change. No obvious injury, but Knockaert is coming on for Jahanbakhsh. Could it be...surely not...a tactical change at HALF TIME? From Chris Hughton? Away from home?? I think I need a lie-down.
A couple of early corners for the away side, building some good pressure as the majority of Arsenal fans are just retaking their seats. On 50 minutes, a lovely exchange of passes in the final third, Bissouma brings the ball down, Solly then takes control and glides past two statuesque Arsenal defenders. A clever one-two with Murray, the frontman backheeling a return pass into March's path. Solly is in...unfortunately, on his far weaker right foot. He still manages to test Leno, but it's held comfortably by the German shot-stopper.
Sokratis goes down the billionth time, shamelessly scheming to get an Albion player dismissed. A centre back, remember. Embarrassing pretence and theatrics all afternoon, you'd think top quality players would be happy to trust their ability, 'let their football do the talking' so to speak. Apparently impossible for Sokratis and a fair few others in Arsenal red.
We've deserved a 'moment' in this game, no question. Normally so cautious away from home, probably sensibly so, today Albion have carved out some good openings. Make no mistake however, though by default a member of the famed 'Top Six', Arsenal are SHOCKING defensively. Really, really poor, bordering on amateurish. Finally, we take advantage. March steams forward with blistering pace, motoring into the area. Xhaka simply can't keep up, running through treacle behind him. The Swiss midfielder has no option, and sneakily brings him down. He does his best to disguise the foul - running across with arms wide to feign innocence, to no avail. The trip was clear to see, a certain penalty, Mr Taylor obliges.
Muzza steps up- BOOM! Calm as you like, Glenn slots the ball to the goalkeepers left, no nerves after that Quarter-final shootout miss away at Millwall. Get in there Muzz. 3 goals in his last 2 against the Gooners, and 200 career goals as well. Masterful professional, an elite poacher.
So soon after the equaliser, nearly a chance to take the lead. March's searching cross is headed back across by Murray, a combination of AK and Bissouma unable to get a shot away. Perhaps Glenn could have gone for goal there, despite an acute angle. Arsenal all at sea now, this a real opportunity for the Albion here to cause a tremendous upset.
There's already tremendous upset in the home end - a sea of YouTube vloggers and Premier League tourists fuming at Albion's audacity to take points off the mighty Arsenal. Bernardo stops after his boot is trodden on - no foul - and Lichtsteiner presses forward. Real danger, until Anthony Taylor suddenly makes a decision and brings play back- to incensed howls from the Arsenal players and fans alike. Definitely rattled. Bless.
Twenty minutes to go, and the game is very much in the balance. Knockaert carries the ball forward down the right, Groß charging down the outside to assist the Frenchman. AK opts to go alone, and teases a shot across goal - Leno is equal to it once again, and holds on. Chance that.
Minutes later, we very nearly pay the price for that missed opportunity. Arsenal on the attack, and an unbelievable chance. Aubameyang all alone, after a cross from Mkhitaryan is deflected cruelly into the striker's path. Just six yards out, and already on the scoresheet, he attempts an extravagant volley when simply thrashing the ball home would have done. At that range, anything on target and surely a goal. Somehow, normally so ruthless in front of goal, the Gabon forward fires wide. HUGE let off.
Clever work from Lacazette in the box requires Maty Ryan to come out and block, the game becoming increasingly fraught going into the final 15. Hughton makes a second change: Andone on for Murray, to enthusiastic applause from the Albion away contingent. A classy penalty from Muzz, good to see him back on the scoresheet.
The ball breaks in the final third, and Bissouma shows good strength protect the ball, then feeding Bernardo, who releases a rasping drive inches away from the top left-hand corner. Very good effort. Still awaiting the FLAIR full-back's first Albion goal. You just know it'll be a screamer too. An extremely honourable mention for Bissouma also - this has probably been his best game for us thus far. Özil and Xhaka put entirely to shame; Yves has played a blinder. Athletic, inventive, disciplined...after showing brilliant promise till now, showcasing maybe one or two excellent attributes at a time, this has been the first game where he has fully run the show. Well played son. Knew my words of encouragement would work.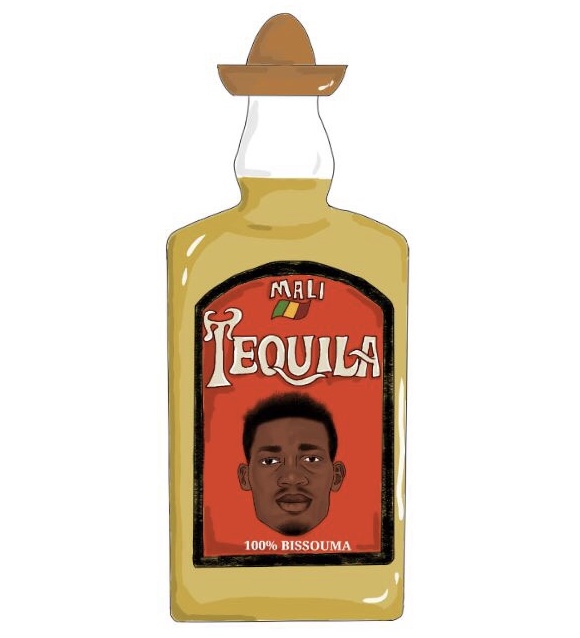 A yellow apiece for Guendouzi and Mustafi, the former for a stopping the ball with his hand as Andone looked to race away. Arsenal are fully committed to their theatrics however, the midfielder still contesting the decision with all his heart. "What do you mean, I blatantly handled the ball?" True actors, this Arsenal team - ever professional. Mustafi's caution for dissent - another Arsenal player beginning to lose their cool.
Albion are looking slick when going forward, causing the appalling Arsenal defensive ranks real issues. One more big chance is all we need, and we could steal a famous win. Right on cue, an astonishing passage of play. Just...HOW HAS THAT NOT GONE IN?
A clever dinked cross to the back post, and a flying diving header from Solly March...surely a goal. It's clawed, quite literally, clawed out of the goalmouth by Leno, but it falls straight to Groß, 6 yards out, goal gaping. If Aubameyang's miss was poor, then well. This is even worse. Pascal looks to ram the ball past the cowering Arsenal defender on the line, but manages to curl the ball across and away from goal. Inexplicable. Sake. So, so close.
Andone pestering the Arsenal back line, nearly steals the ball from the whiny cheat Sokratis. Lacazette challenges for the ball in the Albion penalty area, then throws himself to the ground untouched, the crowd baying for blood. Nothing given.
In traditional end of season fashion, the game is completely end-to-end now. Another huge chance on the break for the Albion, Groß completely in the clear, but Andone can't find him. Poor Pascal. Looking absolutely spent, he's run and run all afternoon, and played pretty well too. Previously, it's been frustrating to see him put in mercurial performances at the Amex, only to turn anonymous away from home. Not today. Sensibly, with little time remaining, he's replaced by Kayal - the German can barely manage to trot off the pitch, having contributed such a tremendous effort.
One final scare, as Aubameyang nearly escapes through on goal. Heroic defending once again from our player of the season, Shane Duffy. Last ditch tackle, timed to complete perfection to hook the ball away. Our centre back pairing once again, repeatedly performing miracles, no matter what you throw at them. Solid.
3 minutes of added time up, and the game is done. The final whistle met with a chorus of boos from the few remaining Arsenal supporters, and jubilant song from the away end. "ALBIIOOOONNNN, ALBIIIOOONNN!" Get in there.
A quality result entirely deserved. All the fight and resolve of our Spurs performance, this time with a result befitting the effort, and a bonus away goal too! What a way to celebrate the confirmation of our PL status, a way to show that despite the second-half of the season horror show, we DO belong in this league. At long last, at the 12th attempt, Albion are able to earn their first point away at one of the illustrious top six. And what's more, it could have been all three.