After the 5-0 thrashing by Eddie Howe's Bournemouth at home, attention would have quickly turned to the six-pointer against Neil Warnock's Bluebirds, with Albion fans urging their side not to lose under any circumstances. Now that the unthinkable has happened, it wouldn't be unreasonable to suggest that Chris Hughton's side are in the midst of a very real crisis that could have far-reaching implications.
Alarmingly, the form of the Seagulls now reads five losses in a row. However, in the middle of that run is the
1-0 defeat to Manchester City in the FA Cup semi-final
, which must be said, was a valiant display by a committed Albion team on the day. However, four league defeats in a row have left Brighton in a fight for their Premier League lives, especially after conceding valuable ground to Cardiff, the only side that could overhaul them.
If one was to take a closer look at the last four games Albion have played, we will see that the Seagulls are exhibiting relegation form without having managed a goal whilst conceding 11. With only 32 goals in 33 games this season, it's easy to see why the Seagulls are in the desperate mess that they find themselves in, and that message would have hit home after the Bluebirds' raid on the coast.
The implications of losing to Cardiff
As the subdued
Amex
faithful filtered out of the ground after being outplayed by a Cardiff side whose severe limitations have been on display for the whole season, they would have realised that losing to the Bluebirds could have dire consequences. Not only has the result given the Welsh team's hopes of survival a gigantic boost, but it has also given their season a shot to the arm at a time that could be crucial.
Great escapes in the Premier League are forged on momentum and Neil Warnock will have the bit between his teeth now. What the 70-year-old Cardiff boss lacks in managerial acumen, he more than makes up for with rousing dressing room speeches. Indeed, for his entire career, Warnock has been able to squeeze every last drop of effort out of all of the sides he has managed which should be a worry for Brighton at a time where it is more about blood and thunder than attractive football.
Whilst most of the Brighton support would have slept very badly after getting home after the Cardiff game as the implications of the result was stuck on a loop inside their minds, not everyone is convinced the Seagulls will plummet into the Championship just yet. In fact, Cardiff are still the favourites to go down.
Betway
, as of the 17th of April, have the Bluebirds at a telling 1/3 to be relegated still. That's all well and good, but anyone who watched Chris Hughton's post-match press conference would have seen a man that looked out of ideas which often means the end is nigh.
Up until this point, Hughton's 1568 days at Brighton have been successful if not trying as well. In Hughton's 209-game tenure on the south coast, he has overseen 89 wins, 67 defeats, and 53 draws whilst averaging 1.53 points a game. Really, the club couldn't have asked for a better man in charge during the last few years, but this current blip has the potential to send Brighton rocketing backwards.
Could parting ways with Chris Hughton help?
It seems unlikely that Brighton would sack Chris Hughton with only a handful of games left in the season and the narrative around his dismissal doesn't bear thinking about. As a club, Brighton would be crucified in the media and to be totally fair, a lot of the criticism would be valid but the stakes are higher than they have been for a while; desperate times call for desperate measures.
Chris Hughton is a very honourable man and carries himself with a refreshing dignity that has made him one of the most respected managers in England. The 60-year-old is always very measured in his reaction to both victory and defeat and that theme carried on after the loss to Cardiff as he calmly called for togetherness within the club.
In fairness to Hughton, the season so far has produced the ups and downs that many would have predicted at the start of the campaign and Brighton's current position isn't unfamiliar territory. The Seagull's survival was only confirmed with three games to go last season and in some style, too, with a 1-0 win over Manchester United, which suggests leaving Hughton where he is could be Brighton's best chance of survival.
Hughton's composed approach has been
vital to the success
of the Brighton team during times of tortuous pressure and once again he will be tasked with making sure his side keep their heads whilst others lose theirs.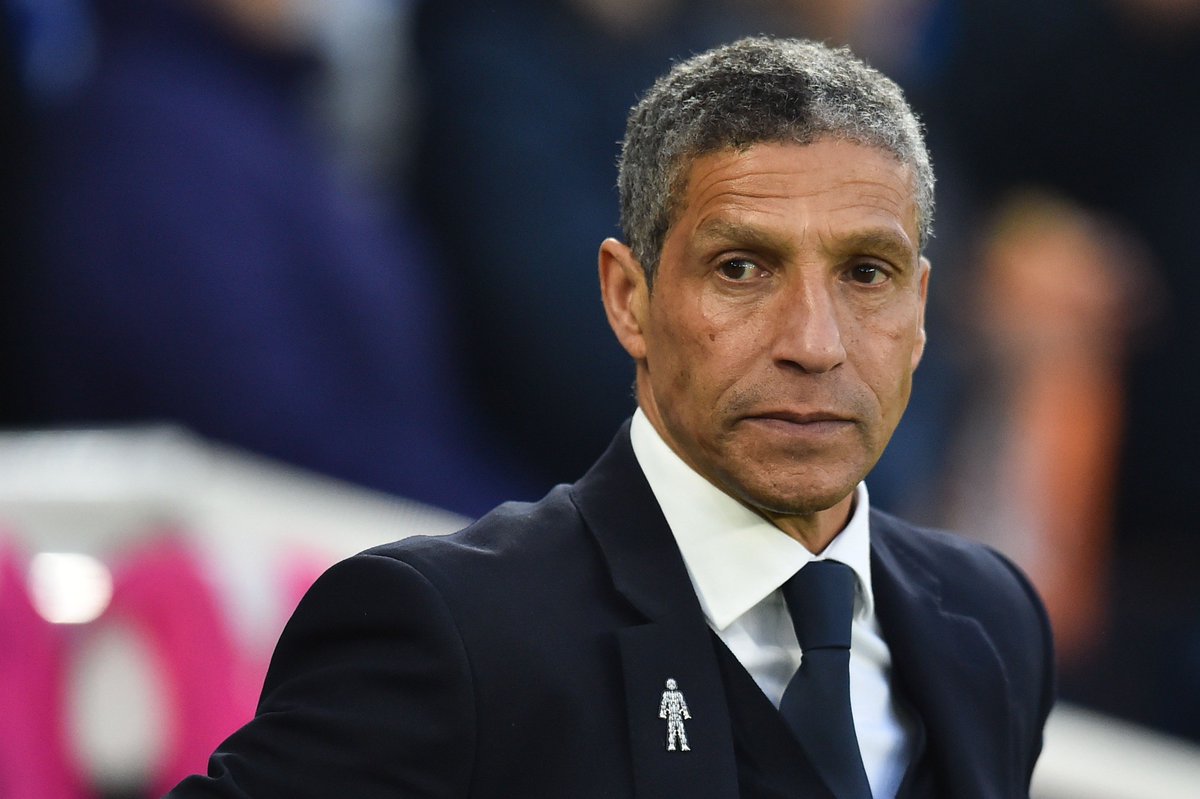 Can Brighton stay up?
To be brutally honest, it's virtually impossible to find a game where Brighton can earn another point during their run-in and that's not entirely due to the pessimism that comes directly after losing, either. The Seagulls have two home games left this season against Newcastle and Manchester City and three away games that will see them travel to Molineux, the Tottenham Hotspur Stadium, and the
Emirates
.
Brighton will probably have to beat Hughton's former team Newcastle at the Amex if they are to stay up as Cardiff have winnable ties left against Fulham and Crystal Palace.
As to the question of whether Brighton can stay up: They have the harder of the closing fixtures and are competing against a football club that has suffered terrible tragedy this season, who have now also managed to found a tailwind down the home stretch. Possessing a greater desire always plays an integral part in the fight for survival and on current evidence, it looks like Cardiff have more of it, which may be the reason the Bluebirds soar to safety as the Seagulls freefall into the Championship.