What a night.
Premier League status confirmed
, with two matches to spare. A great occasion, a tremendous effort, and most of all a thoroughly deserved victory.
Every player worthy of the highest praise.
Little Maty Ryan, less busy than might have been expected, went about his business in the tidiest of fashion, plucking high balls at will - plunging to save when he finally had to.
Bong and Bruno reliable in defence and playing their part going forward - El Capitan especially - linking superbly with Knockaert all night.
Dunk and Duffy did what Dunk and Duffy do - imperious headers and the bravest of blocks, mixed with a range of passing to boot.
Stephens and Pröpper took on, and commandingly dealt with, a zillion pounds worth of opposition midfielders - Pogba cost roughly an Amex, and was restricted to ridiculous Hollywood balls that repeatedly lost possession.
Izquierdo scared Mourinho's star-studded line-up with his pace and direct running, while on the other flank, le petit Magicien made everyone who has questioned whether he belongs at this level, look a mug. Comfortably the stroppy genius' best game of the season - his trickery running with the ball, opening up United again and again. Bravo.
Pascal Groß put in his usual huge shift, and capped it with the game's only goal - courtesy of the goal line boffins.
Glenn Murray utterly selfless in his efforts - running and running and running until come the finale, he literally could no longer lift a leg. Dragging himself off, in the closing stages he took a well deserved standing ovation - all in the ground bar Craig Pawson, applauding his efforts - Mr Pawson not a fan of Glenn's combative style.
At the final whistle, rapturous celebration. One last Amex bundle of the season for Maty Ryan. Similar togetherness in front of the West stand, and the bench spilled onto the field. And not just those involved in this game - everyone involved - Rosenior, Uwe, Mäenpää, etc all jumping about. Guest of honour Iñigo Calderon stood cheering, a few rows behind the bench.
Steve Sidwell was there on Sky TV duties. As we waited for the team to re-emerge for a lap of honour his co-presenter Kelly Cates struggling to hold it together, as the North Stand offered Stevie their wives.
As the squad trooped round the pitch, love and thanks rained down on them from the grateful stands. The players responded with massive grins and waves - if they had an arm free - most holding a toddler or two in their grasp. No little one for El Galgo to hold, so he improvised - scooping up his South American buddy, and carrying him around the pitch. Bantz.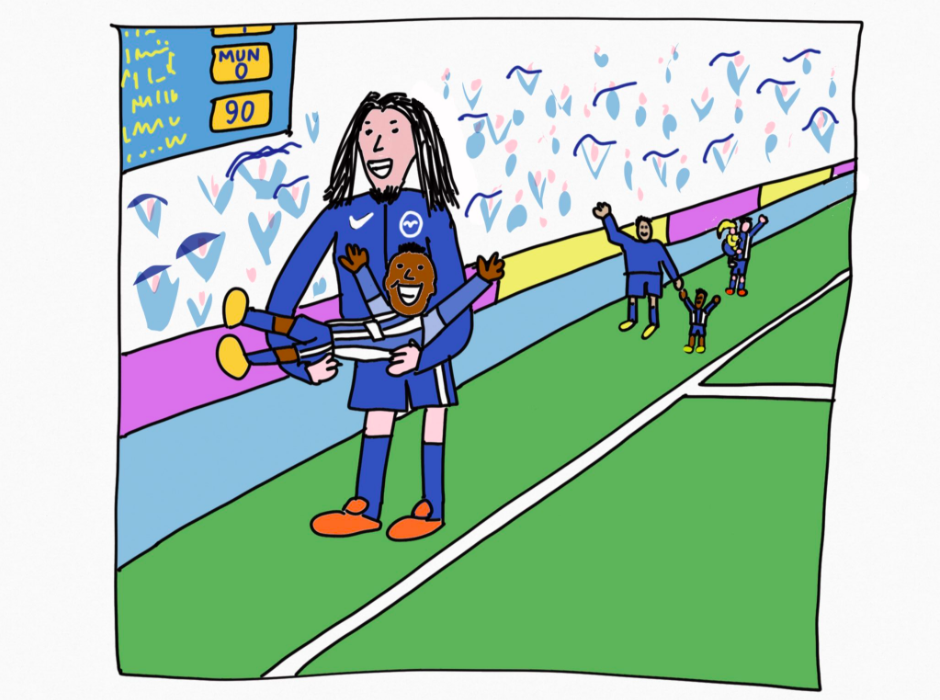 What a season these lads have given us - especially here at the Amex. Just four home defeats all season - remarkable. Two bonus 'free-hits' now at the Etihad and Anfield, before a well deserved rest (and a
World Cup 2018
adventure or two). See you all next season for more of the same.
Cheers.