I opined in conclusion of the midweek Southampton report, that the value of that draw there could only be properly measured, in conjunction with the outcome of this game. Find a way to beat West Ham - four points in a week - everything looks a bit rosier. Lose this one, and things will take on a very grim outlook.
The lead up to the game had seen my bullish optimism (Lanzini, Arnautovic and Carroll out – good time to play the Hammers…?) had proved fragile – an accidental look at a Premier League form table (14 points from the last 6 games, against the Albion's THREE…) – pretty much puncturing it.
Barely had the match kicked off, before it was brought to an impromptu halt – a lengthy delay for Gaeten Bong to receive treatment, after falling heavily, as Byram went in under him in an aerial challenge. Bong okay to continue eventually, the West Ham full back fortunate to avoid a card.
After that false start, there was early attacking mojo on display, and that soon filtered to the stands. Anthony Knockaert, preferred here to Solly March, looking especially 'up for it'. Sure enough, the little Frenchman was involved, as the Albion took an absolutely crucial early lead. Receiving the ball from Dale Stephens, he was victim of an appalling lunging challenge from behind from Aaron Cresswell. As 25,000 voices screamed for the referee to dispense justice, the loose ball arrived at the feet of Pascal Groß. Huge credit to Mr East, allowing himself a pause just as he put whistle to lips, and stopping himself in time, as the Seagulls' creator-in-chief delivered a perfectly weighted ball behind the remnants of the Hammers defence, into the path of Glenn Murray.
The 25,000 screams caught in throats, collective breath held for Murray's duel with Adrian in the Hammers' goal – and released into a roar as the ball was slotted calmly past the exposed keeper, for Glenn's tenth goal of a fabulous season - now the highest scorer at any side on the bottom half of the league. As the team and stadium celebrated, Knockaert was helped from the field hobbling, while Mr East completed his admin – Cresswell as relieved to see a yellow as his full back colleague had been to avoid one.
The Albion in a good place now – the next 20 minutes as comfortable as any in the league this season – and might have made it tell, but for some wayward finishing – first from Knockaert, back in the fray, then a wildly speculative overhead kick from Murray at the end of a terrific breakaway. Some great play down the left next – Jose Izquierdo's pace carrying him to the by-line, to pull back to Knockaert 10 yards from goal – first time effort – desperate block by Ogbonna – Mr East waving away appeals for handball. Harsh as a penalty would have been, given the range of the shot - the defender's arms were up, and he'll have had his heart in his mouth for a moment.
Much as Southampton simply had to recover from their torpid start on Wednesday, West Ham were always going to improve and grow into this game – such is the individual quality within every Premier League side, that there's always a threat at some stage. In this case, in the form of former Manchester United striker Xavier Hernandez – picking up the ball 30 yards from goal – a darting carry – a quick one-two – a shimmy to wrong-foot Lewis Dunk – before the 'Little Pea' drilled the ball into the top corner for a terrific, if unwarranted leveller.
Things could have got a whole lot worse, in the next few shaky minutes - Joao Mario inches from connecting, then Byram heading wastefully over - each from dangerous crosses from the left foot of Cresswell. Sandwiched between those chances, another for Knockaert - time to take a touch in the box, but somehow blocking his own shot with his standing foot...
Into the second period - quiet period - not much happening - then BOOOOM. Jose Izquierdo, take a ****ing BOW. The Colombian winger released a shot – heading high and wide of the goal – before curling and dipping unfeasibly - into the very top corner of Adrian's goal. "That is POSTAGE STAMP!" screamed Jonathon Pearce on his Match of the Day commentary.
A momentary pause to take it in, then the Amex erupted – Yeeeessss! Come on! Did you see THAT!? The goalscorer himself, charged off down the touchline towards the Albion half, swinging his shirt above his head – Schelotto chasing behind. Maty Ryan, who'd been sprinting towards the South goal for a customary bundle, had to turn and run back in pursuit – an iconic image of the season to date.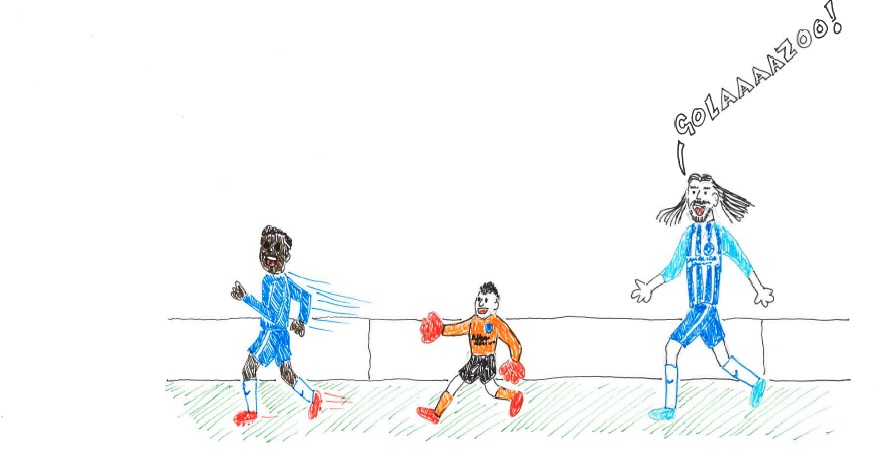 Pascal Groß went close soon after, flashing a header over the bar, after a driving run and cross from Schelotto – excellent again today. Now settled, he looks a great acquisition - rapid, direct and positive, but never quite in control of his legs, El Galgo is terrific FUN. Every inch the cult hero in the making. As an aside, I was out with Saints supporting mates last night talking about the game on Wednesday – the one player they really liked, was "your hairy fullback".
A substitution apiece – a centre back sacrificed by Moyes, for an extra attacker in Antonio – then for the Albion, Glenn Murray making way for an Amex homecoming for that man from Argentina - rapturous ovation for both men.
No sitting back on this lead – the Albion in the groove now – Groß dragging narrowly wide, at the end of a terrific move. A couple of minutes later, he made no mistake. The superb Davy Prӧpper intercepting a dreadful Collins clearance (thank God the rumours of a link to him proved a nonsense) and feeding the German 20 yards from goal. Groß deceived last man Ogbonna with a clever turn, and rifled beyond the helpless Adrian, to give the good guys a decisive lead. That's five goals and six assists now for the king of the slow-mo Cruyff turn – in pure statistical terms, the most important player to his team, of any in the league. What an absolute steal this guy was - kudos to the backroom recruitment folk, in their Lancing bunker.
Moyes responded by sacrificing poor young Jordan Hugill, on the altar of the angry mob of Green Street extras behind the South net. Plucked from mid-table in the Championship, the Irons faithful were seemingly less than delighted with his deadline day capture, and his introduction here was the spark for anti-board chants and banners. I'm not sure he touched the ball - West Ham were spent in this game, failing to add to their single shot on target, as the afternoon played out.
The final result ought to have been more emphatic – Solly March blazing over a near open goal after Adrian had foiled his fellow late sub Beram Kayal. It mattered little, as Mr East called time. Four points in as many days banked, and the table slightly more comfortable reading. A repeat of that from the next two fixtures is the new target – a little breathing space ahead of a daunting run in. That's for later though – now is for basking in a terrific Albion victory.