With Brentford v Blackburn Rovers and Nottingham Forest v Ipswich Town being selected for live coverage by Sky Sports next Sunday, Albion's season of disruption by the broadcaster has finally come to an end.

The Albion finished behind Newcastle for matches selected, but earned more money in TV revenue due to having the most home games shown live. (£100,000 paid to home teams & £10,000 to away teams)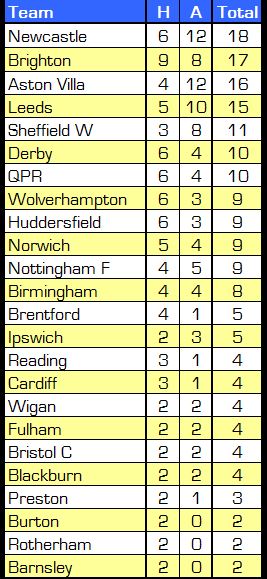 Despite BT Sport being added to the mix next season, the hope will be that we will see fewer games being moved, not only for planning purposes, but also because Brighton's record on Sky has been mixed this year. We do have a healthy 58.82% win ratio, but we have had some below par performances, with 2 of our 3 home defeats coming in front of the cameras, while 4 of the 6 losses on the road also came when Sky had picked the Albion as the game of the week:




With Albion having never won at Villa Park and the form and odds being in Newcastle's favour, the curse of Sky will be one thing we won't be able to blame if we don't win the title next week.

Here are Albion's games shown live on Sky this season for those of you that struggled to keep track of them all:

Home
Forest W 3-0
Aston Villa D 1-1
Leeds W 2-0
QPR W 3-0
Sheff Wed W 2-1
Reading W 3-0
Newcastle L 1-2
Derby W 3-0
Bristol C L 0-1

Away
Newcastle L 2-0
Bristol C W 0-2
Birmingham W 1-2
Huddersfield L 3-1
Leeds L 2-0
QPR W 1-2
Wolves W 0-2
Norwich L 2-0

If you're so inclined, you can follow BHAFC_StatMan on Twitter for more regular stats about The Albion.