Breaking team news: despite appearances, this isn't Exile summarising the Blackburn Rovers game for you. In an unexpected turn, there's a late substitution on the team sheet, a Chuba Akpom, if you will, whilst Exile Baldock rests up a slight knock for the run-in. Nothing could go wrong there, right?
Another week, another Must Win for the Albion, whilst our nearest challengers set themselves up for what were, surely, easy home wins against Rovers' fellow relegation fodder, Wigan and Burton. The emotional roller coaster (Copyright
Big Book of Football Cliches
) that is 2016/17 had run into a slight dip at Elland Road two weeks ago, where a performance that should probably have been adequate to earn a point against FC Chris Wood saw the Albion return home empty handed.
It also saw many supporters of the Champions of Europe suddenly start to contemplate their own automatic promotion chances with a sense of genuine optimism. The deluded Yorkshire fools. A two week international break then, probably came at exactly the right time. Not for us fans of course: the idea of watching England huff their way to inevitable qualifying campaign victory against another low-to-mid-ranking European side is about as appealing these days as a Comic Relief
Mrs Browns Boys
two hour special. But the players deserved some R&R, a bit of sunshine, and a chance for the various broken defenders to mend themselves.
Chris Hughton took them off to Valencia for a few days apparently, which presumably meant Bruno got to put his tour guide hat on (certainly wouldn't want his magnificent shiny head suffering sunburn) and show the boys the local sights. Back in Blighty, and safely home to the comforting surrounds of the Amex, the first disappointing news of the day surrounded the aforementioned Baldock's absence. The second came when we were reminded that Gordon Greer wasn't fit for Rovers. An underrated presence during his six or so years at the Albion, it would have been (a) nice to give him a much-deserved warm round of applause and (b) see our midfielders and front men give his ageing legs the runaround. Sorry Gordon…

Look at his hair. Just look at his hair.
Exciting on-field developments seemed to have emerged from the Spanish mini-break, as, midway through the first half, a free kick was awarded, twenty five or so yards out from the Blackburn goal. Knockaert hovered, as, initially, did Stephens. So, however, did Lewis Dunk, a man not previously renowned for his dead ball wizardry. The crowd murmured, not- surely- in fizzing anticipation, but in sheer wonderment. The whistle blew…and Lewis lifted the ball over the sadly-Greer-free wall, straight into the arms of Jason Steele. Not hit with pace, nor with any spin or curve: it was hard to imagine what the intention had actually been. "Never mind though" we laughed to ourselves. "They won't pull that stunt again". Not so much a training ground routine, as a "hatched at 3am in a tapas bar after fifteen San Miguels" routine.
The game wasn't really all that, as is traditional when a season nears the pointy end. The brightest thing on view was, frankly, Oliver Norwood's new bleached crop, a late and unexpected contender for NSC's recent Personal Orrible Haircuts thread. Far greater entertainment was to be found in monitoring scores from elsewhere. Thank God for wifi at the Amex. I've no idea how fans cope now in large crowds when they can't pick up a mobile signal, in the absence of the old fashioned Man With A Transistor Radio.
"Huddersfield are drawing". "Huddersfield have had 74% possession". "Huddersfield are bound to score soon". "Newcastle are drawing". "No, they're winning". And so on, and so on. Half time felt welcome, a chance for Hughton to set the players back on track, and perhaps make a change or two. Akpom certainly hadn't inspired much confidence thus far with a largely anonymous showing, and it's fair to say hopes of seeing Solly March and Tomer Hemed were high.
The second half started on much the same note. Rovers enjoyed a bit of possession, but without actually bothering to create any proper chances. Their main hope seemed to centre upon the admittedly wicked corners and set pieces delivered by Big Gordon's compatriot, Charlie Mulgrew, which had Albion and David Stockdale scrambling more than once. Other than that, Tony Mowbray's cunning plan of playing a team without any recognised strikers up front had the effect of making Blackburn look very much like a team without any recognised strikers up front. Odd, for a side battling relegation. Fortunately for them at least, they didn't appear likely to concede many, not least when Lewis Dunk again found himself lining up another twenty five yard free kick. With the same, bizarrely ineffective, outcome.
Then: the hoped-for changes. March and Hemed on, Akpom and Skalak off. Within minutes, an interchange of passes led to a ball into the box and the unlikely sight of Knockaert providing the headed knock down to a suspiciously isolated Glenn Murray. The big man needed no second invite, and poked the ball past Steele, checking quickly over his shoulder for a linesman's flag, before running off towards the North Stand, arms raised. Sweet, sweet relief. "Keep calm", gestured Glenn. Trust us, he seemed to be saying. Calm, of course, has no place whatsoever amongst supporters at this time of year: I know I for one checked the time on the Amex scoreboard clock at least once every ten seconds for the remaining twenty five minutes or so.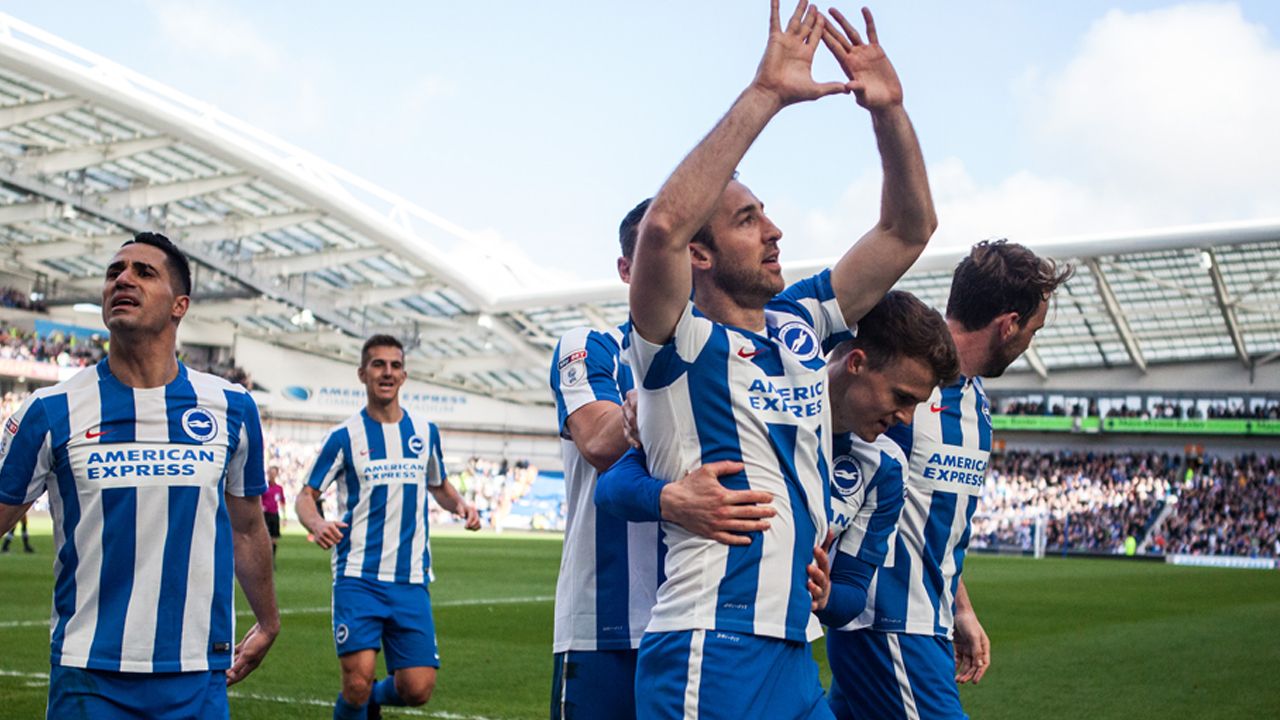 Rovers managed to hog the ball for the final few minutes of the game, leading to an anguished cry of "Don't do it, Elliott! Don't you dare!" as former Albion winger Bennett found himself with space to shoot. Fortunately, he wasted it, the four minutes added on by the referee petered out without too many scares, and the points were ours. Celebration time? Very much so…but somehow better was yet to come...
Fans filtered out to the concourses to source beer and watch the Soccer Saturday live scores coming in. The news that Huddersfield were still drawing felt like a massive bonus, if only Burton could hold on. Six minutes added time. The Terriers down to ten men. But you know they'll nab one at the death, won't they? They always do. Most were so focused on the notion of the other Albion clinging on for a magnificent draw, it hadn't even entered our heads that they might actually try to win it.
Those of us checking and re-checking the #HTAFC hashtag on Twitter then noticed something strange. There, the local Huddersfield newspaper account tweeted just "Goal". Was it an old tweet? A dodgy account? A hilarious attempt by some attention-seeker aimed at creating tension? Nothing on SkySports yet. What was happening? The hundreds congregated around the TV screens looked at each other, back to SkySports, and back again. Hang on though. Surely if there HAD been a goal, and if Huddersfield HAD scored it, it would have read "GOOOOOAAAAAAAAAAALLLLLLL!!!!! !!!!!!!!". And been retweeted ad infinitum by their fans. Not just a single, lonely-looking "Goal". Hmmm. Surely….it couldn't be…
Meanwhile, back to the videprinter...

"GOAL: Huddersfield Town 0 Burton Albion 1 (Jackson Irvine 90+5)"
"Scheisse."




Cue explosion of air-punching, hugging, and "We're on our way"-ing. Even Wagner's side, with their annoying habit of scoring late, couldn't find a way to win this now, could they? The answer came soon enough, greeted by huge cheers echoing through the concourses. It's not done yet, of course. But a nine (effectively ten) point lead, with seven Albion games to play is a brilliant position to be in, and one which would require an epic turn around in form to screw up. We're so close we can almost touch it. Come on, you brilliant blue & white heroes. Bring it home. Bring. It. Home!