Arriving in Bristol early yesterday evening on the back of Albion's 4-1 weekend defeat at Cardiff, those of a nervous disposition might have been disconcerted to witness the sight of a blood red moon rising over the Avon. A good omen for a resurgent Bristol City, inconveniently winners of their previous three games?
As kick off approached, the general consensus amongst the 900 strong away contingent was that the team selection was a positive one, with Beram Kayal and Jamie Murphy restored to the starting line up, and Liam Rosenior replacing Inigo Calderon at left back. Chris Hughton commendably chose to stick with the rest of the back line that underperformed at Cardiff, hoping, as we all did, that the calamities that ensued in the South Wales monsoon were but a mere blip.
The inclusion of Sam Baldock up front raised a few eyebrows: however this contributor was confident that the Law of Previous Clubs would almost certainly apply, and therefore warmly welcomed Sam back into the starting line up.
Albion, unsurprisingly, made a nervous start, with the home side hogging the ball relentlessly and attacking from the off. Had possession stats been calculated for the first ten minutes or so, it would surely have been approximately 90%- 10% in City's favour, as Lee Johnson's team began with the confidence befitting a team coming off the back of a good run.
A few uncharitable boos could be heard from the three sides of a much-changed Ashton Gate currently occupied by fans each time Baldock got near the ball, scant gratitude for his prolific goalscoring contribution to their cause. Albion, meanwhile, struggled to get the ball under control on a pitch that Hughton would later describe as bobbly.
Whilst City enjoyed plenty of possession in the early stages, the principle in flaw their game soon became apparent, in that they displayed a singular inability to capitalise on it. Albion, meanwhile, in the rare moments where they found the ball at their feet, started to use it well. City's eighteen year old home debutant right back, Zak Vyner, was an obvious target for the Seagulls' wingers, particularly Jamie Murphy.
Vyner failed to control a bouncing ball, which was seized upon by Wee Jamie, and passed to Tomer Hemed. Hemed produced a neat flick back to WJM, releasing him into the penalty area, from where he fired confidently past Richard O'Donnell in the City goal and into the bottom corner. One nil Albion, and all on the basis of approximately two minutes' worth of possession.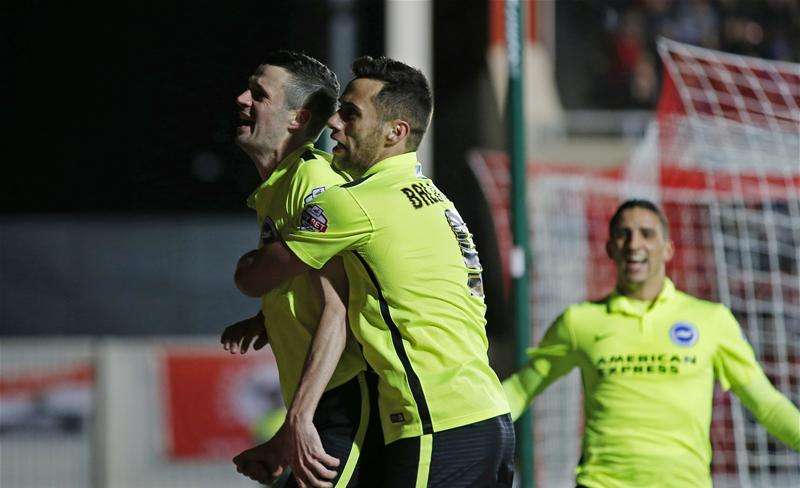 The pattern repeated itself a few minutes later: Hemed again with a cute lay off, this time to Baldock, who danced across the static Bristol back four and fired straight past O'Donnell's groping right hand from the edge of the penalty box to make it two. Off he ran towards the corner of the Gate occupied entirely by City's loosely-described Ultras section, whilst at the same time performing the old "Of course I'm celebrating, but I don't want you lot to think I am" arms spread routine. "Oh Sam Baldock, he left cos you're shit", chorused the Albion fans. Baldock has three goals in his injury-hit season. Two thirds of those goals have come against Bristol City. Top booing skills, Robins fans!
Lee Johnson may have wondered at that stage how on earth his team had found themselves behind, let alone by a two goal margin. Perhaps look at your defence, Lee, where the cumbersome Aiden Flint thundered around with all the mobility of a 94 tonne crane, shouting a lot and booting long balls aimlessly forward in a style that would have England egg-chasing coach Eddie Jones warming to his cause. They do play rugby at Ashton Gate these days, Aiden. Maybe go check them out sometime?
The Robins temporarily ran out of steam and ideas as the half drew to a close, allowing Albion to relax, although not enough to prevent BBC Sussex's Warren Aspinall from laying into them on the radio.
City emerged for the second half in familiar style, once again attacking from kick off, but with little real end product. David Stockdale was forced into impressive saves from Jonathan Kodjia and Lee Tomlin, saves that would go on to bely the final scoreline, but the home side were largely restricted to shots from distance, or hoping to land the ball on Flint's skull from a set piece. Kodjia, impressive at the Amex, did little other than repeatedly find himself offside- a sort of West Country Elvis Manu, if you will- and was eventually subbed, while the talented but ever-plump Tomlin found himself marginalised as the game went on, dropping deeper and deeper in search of the ball.

Albion's midfield began to dominate, and the killer third goal soon ensued. A slide rule pass found poor Vyner kicking at thin air again, and Hemed grabbed the reward that his excellent all round performance deserved. Cheers in the away end, gloom and emptying seats around the rest of Ashton Gate, and most of us started to breathe more easily. An implausible own goal by
Neighbours'
Joe Mangel sealed the defeat. Hughton's side played out the remainder of the 90 minutes in confident style against their demoralised opponents, only temporarily threatened by the award of an injury time penalty against Knockaert, for the offence (only usually seen in Under 9s games) of winning by too many goals. A late consolation would have been really quite annoying at that point, to the away fans and, quite transparently, to the Albion defence, who protested noisily.
Boos and jeers rang out from the blue section of the Atyeo Stand as Kieran Agard, having wrestled the ball from City's designated penalty taker Tomlin, stepped up. And thundered the ball against the crossbar and away into the misery-riven home fans. It's not often you hear 900+ people laughing simultaneously, but that was just one such moment. Our night was complete. Hemed, by consensus, took Albion's Man of the Match honours, whilst it was a welcome opportunity to roll out a few old crowd favourites, including
"Can we play you every week?"
and (at the very end) a brief chorus of
"We're ****ing brilliant"
.
The stats from this game are deceptive. Less possession than City, only three shots on target, and four goals in the For column. Richard O'Donnell for City didn't make a single save of note all night, whilst Stockdale had to perform particularly well to ensure his clean sheet. A rare and impressive four nil away win is, however, the only statistic that counts. As for the pre-match omens: well it turned out to be a blue moon after all.