The price of going down is something I last heard discussed on a rugby club trip to Amsterdam*, but I've been asked to apply the same question to the Albion's perilous league position.
Apart from the joy of a Sussex derby match at Crawley next season, and some 'new' grounds in the form of Chesterfield and Fleetwood for the nerds amongst us, what are the potential financial costs of relegation, should results continue to be as dismal as the past few months (and Derby was as insipid as it gets IMO).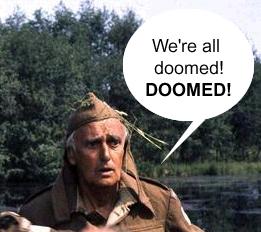 The Albion get their income from three main areas, matchday income, TV income and commercial sponsorship. All three of those are likely to be hit significantly if we drop to League One, so here's my analysis of the potential wallet lightening consequences for Tony Bloom if the worst happens. On the other side of the coin, there will be cost implications too. We will look at each of these in turn.
Matchday
In 2012/13 ticket income was £8.7 million, on the back of average crowds of 26,236. If we go down, it's reasonable to expect crowds to fall by about 10,000 (although knowing how Albion fans will follow a winning team, this could be overstating the damage if we storm the division) to 16,000. This is a decline of about 38.5%. I'm assuming the board would not be so daft as to increase prices, so ticket income would decrease to about £5.3 million.
On top of that retail income would probably fall too, last year was £1.4 million, expect a similar decline, to £1 million. I'm assuming here that the club freezes season ticket and match ticket prices, there's a strong case for reducing them, if they try to increase them the people choosing the mannequins for the top of the Lewes bonfire next November will have a very easy decision to make.
TV
The Football League deal with Sky is skewed towards teams in the Championship. Last year (2013) the Albion picked up £4.8 million from the TV deal for finishing fourth, (Cardiff, who finished bottom of the Premier League last season, however earned £64 million, and sadly Palace £75 million). It looks as if in League One this will fall by over 90% to around £400,000.
Commercial
The Albion have negotiated some good deals with sponsors, the last figures we have show a figure of £4.2 million. They will however struggle to sell such deals when the Amex is half empty and the opponents are the likes of Rochdale and Scunthorpe, even with a redcurrant jus reduction on the menu in the 1901 lounge. If the club manage to generate £3 million they will be doing well here.
Other income
If we knock off a bit from loan players (£300k in 2013) and catering (in line with the matchday decrease) then
it's fair to expect a fall of at least £10 million
, and this could potentially be more if we're struggling in that division.
So in total income could be around £12-13 million, this figure is important, as we shall shortly see.
Costs
The club had a wage bill of £21.1 million in 2013, we have been told that this increased under Oscar, and indeed is even higher this season. so could be in the £23 million region.
Under League 1 Financial Fair Play rules, clubs are restricted to a wage bill that is a MAXIMUM of 60% of revenue, which gives a figure of £7.2-7.8 million. Therefore the club would have to cut the wage bill by £13-14 million, or a decrease of about two-thirds. The current 'average' wages of an Albion player (which we've previously estimated to be about £9,000 a week) would have to realistically fall to about £3,000 a week. Still; not to be sniffed at, but a fraction of what some are currently on.
This will upset estate agents and Range Rover dealers in Sussex, but probably not many fans. There are some FFP get-out clauses in relation to players on three year deals from relegated clubs, but we don't have too many of those in the squad (Baldock and Stockdale are probably exceptions being million pound plus signings), but even so there will be severe belt tightening taking place, and job losses aplenty (the club had 239 full time and an average of 572 part time matchday staff in 2013) .
I'm assuming that players have relegation clauses in their contracts, and they were casually signed (no one thought we were likely to go down) by our bunch of underperforming matadors. If not, heads should roll. One very minor benefit of having so many loan players this season is that at least their wages will not have to be paid next year, irrespective of where we end up.
Whether these relegation wage clauses apply to the boardroom too (director fees, including pension contributions, came to £800,000 in 2013), will be discovered in due course.
Many costs will fall in line with matchday attendances, but others don't follow the fall in income, (lighting, ground maintenance, accounting, IT systems, cleaning the away dressing room floor before the play-offs etc.), so will be difficult to reduce.
Conclusion
Relegation will be painful for the club, in the sense that people will lose jobs, some will have to take pay cuts, and reset the coach sat-nav for Oldham and Bradford. It will be very painful for Tony Bloom. The club have announced that losses have been reduced and we have complied with last season's FFP target of £8 million, and should easily be achieved this season too with the sale of Leo Ulloa. What the losses would be in League One is open to conjecture, and a lot will depend on the ability to get rid of high earners ( *cough* Kemy) and any unnecessary costs (*cough* Kemy).
Regardless of the magnificence of the Amex, the splendour of the new training facilities, and the best pies in the League, we will be all fur coat and no knickers if we go down. The kick and rush brigade of League One will relish coming to our ground, and will raise their games as we'll we seen as a great scalp. There's no guarantee of getting out of that division at the first attempt too, as the likes of Leeds and Forest know to their cost.
It won't however be the end of the world, the club, or our ups and downs through the divisions.
*€50 according to our second team fly half.