Whilst Albion went into the international break on a good run of form and in an optimistic mood about the upcoming set of games, the return to action has been less than kind for them.
Two matches away from home have seen the Seagulls come away empty handed from both Brentford and Ipswich Town, having conceded five goals in the space of those games.
Whilst the arrival of Blackpool at the Amex this Saturday does on paper represent the least daunting fixture for Sami Hyypia's side during the run up to the next international break in October, there is now a sense that with three tricky fixtures in both league and cup coming up in the next 11 days, a win is needed to get things back on track.
Ahead of tomorrows encounter with the Tangerines, Hyypia spoke in his pre-match press conference about a number of topics, including rotating the starting line-up on a regular basis, and the pressure of selecting a squad whilst having to leave out important players.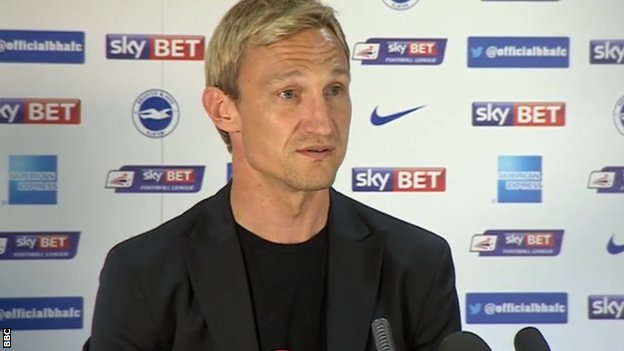 Albion's recent performances in the league have highlighted how much of a change in style of play has occurred since the Finn's arrival. Gone is the build up play based on possession, which both Gus Poyet and Oscar Garcia favoured.
Under the former Liverpool centre-back the Seagulls are looking to get the ball forward more quicker, utilising wing backs out wide allowing them to create as many chances on goal as possible.
The action on the pitch is certainly more entertaining on the eye than what we saw last season, however at times this has left the defence exposed.
So far this season they've conceded 10 goals in the opening seven league games, and only kept one clean sheet in that time. It's certainly a far cry from having one of the toughest defences to beat in the division in recent years.
However Hyypia does not feel that this is an issue, placing more emphasis on his side taking advantage of chances in the game before their opponents.
"When I was a defender I would always liked to have had a clean sheet after the game, but I think it's not a worry. In all these seven league games we've only scored first once, so that's maybe more of a worry than conceding a goal.
"When you score one more than the opposition you win the game. If we won all the games but didn't have a clean sheet then I'd still be a very happy man. That hasn't been the case, so that's the bigger problem that in six of the games we're chasing the opposition.
"That's not an ideal situation to be in, and we need to try to change that. We need to create chances to score, put the ball in the back of the net and make sure it's the opposition who have to try to do something. That would be better."
Albion's opponents build up to the season is already well documented. Blackpool Manager Jose Riga spent most of pre-season with only a handful of players on the books at Bloomfield Road, forcing them to field teams filled mostly with trialists for friendlies.
Unsurprisingly the chaos of this summer has meant that they haven't been able to truly get underway this season, sitting second bottom in the Championship table having only picked up a point so far.
With the former Premier League side still gelling as a squad, it could be suggested that facing them now gives the Seagulls an advantage. Despite their start, Hyypia isn't underestimating tomorrow's opponents.
"Our start hasn't been so great either, but I don't think there's a good or bad time to play anyone. I've seen the problem's they (Blackpool) have had but we can't think of that. We need to be ready for the game because if we are not at our level it will be difficult.
"It's easier said than done. We can talk a lot about thing we would want to do in the game, but if that doesn't happen then it will be difficult. I saw them play Watford and they were very unlucky not to get something for the game. We need to be ready for a good fight."
After Saturday, Albion's next run of games is anything but easy.
They travel to Burton Albion in the League Cup on Wednesday, with victory over the League Two side far from certain after they saw off QPR in the second round of the competition.
They then have two tough sides to contend with in the Championship, with a trip to current leaders Nottingham Forest on the following Saturday, and recently relegated Cardiff, who may have appointed a successor to Ole Gunnar Solskjaer by Tuesday September 30th.
Hyypia believes that picking up all three points against The Tangerines tomorrow afternoon could help them start to rebuild the momentum after a tough start to September.
"We've had two tough games in the past seven days, and now this game will be the same. Hopefully we can get back to winning ways and gets some confidence from winning the game, maybe keeping a clean sheet and seeing the strikers scoring a few goals.
"That would be the ideal situation but we need to work hard tomorrow. It's not going to be an easy game, and we need play at our level, focus for 90 minutes and put 100% into carrying out our task and then we have a chance to win."